Having an online business presence has become the mandated thing in this era. But is that possible with having a website and a domain name?
Certainly not! You need a website to host and a domain name to locate your website over the internet.
Talking about the online business presence, one must also know the process.
While you think of taking your business to the online platform, it is necessary to follow the steps below.
Creating a website
Getting a domain name
Hosting your website
A website can be built with the help of a web developer or CMS. Although, using CMS for web development has become the new normal.
The very crucial part of having an online business presence is the domain name for your website. As the domain name is a permanent thing, one must be careful while choosing the domain name.
What is a domain name?
Like we all have a unique name for identifying ourselves from others, websites also have unique names for identification. A domain name is a name given to the website for locating it amongst websites over the internet.
Type of domain names 
Top-Level Domain (TLD) is the domain name suffix or final element. A shortlist of predefined suffixes is available that includes:
.com – company/business/commercial purpose (the most common TLD)
.org – organizations (typically, nonprofit)
.gov – State departments
.edu – institutions of education
.net – Organizations of the network
.mil – military 
Generic Top-Level Domain (gTLDs) 
Country Code Top-Level Domain (ccTLD)
While you select a domain name for your website, make sure it is widely recognized. The .com domain is widely used. 
About the .com domain
The .com domain name is a top-level domain (TLD) in the DNS of the internet. Its name was introduced in 1985 from the word commercial, which indicates its original meaning for registered domains of commercial entities. Later, the domain opened for general purposes sites as well.
.com is a monarch in the field of domains. Whenever possible, most people still want to use.com domains. That raises the issue – can the way users view your website with alternatives to .com have a contrary impact?
There is no technical distinction between using a.com domain or any other kind of domain. An alternative can, however, affect otherwise on your web.
However, as there are various advantages of using a .com domain, it is the most used domain.
Some of the benefits of the .com domain
The .com domain seems more reliable. People from a non-technical background may not wish to use .com alternatives because they know and trust the .com TDL.
It can increase the authority of your website. In certain instances, people would take .com domains more severely than other TLDs automatically. This is twice as much if you are using a TLD that sounds gimmicky, .fun or .xyz.
The .com recognition is fast. You are used to visiting several of your favorite websites with .com, and you may have difficulty remembering other TLDs.
Where can you buy a .com domain name?
Many web hosting service providers provide a domain name with or without web hosting. Some web hosts provide domain names only with hosting, and some furnish domain names even if you are not buying hosting facilities from them.
Buying a domain name incurs fees. The fees are on annual basis or for two or three year straight, depending on the service provider.
There are a lot of registrars, but perhaps the most common one is MilesWeb.
MilesWeb has come up with the exciting limiter period domain offer.
Before getting to the domain offer, let us know about MilesWeb.
A flash on MilesWeb
MilesWeb was established in 2012 as one of the best web hosting companies. It is one of the top leading companies in the hosting industry. The company provides low-cost web hosting services for shared, VPS, resellers, committed, and managed WordPress hosting. MilesWeb provides 24*7 live support via live chat and e-mail and guarantees maximum uptime for all websites. MilesWeb has 30,000 happy clients worldwide. India, the United States, the UK, Singapore, Australia and Canada are the countries, where the firm has data centers that leverage you to reach your chosen audience.
Apart from the hosting plans and offers, MilesWeb provides top-of-the-range domain name offers. You get .online domain free on .com with Tyro, Swift and Turbo web hosting plans.
The biggest ever .com domain offer by MilesWeb!
MilesWeb has launched a brand new exciting offer on the .com domain. The offer is named as 99NotOut, as you can buy the best domain just at Rs. 99/year.
The 99NotOut offer details
The company is providing you the .com domain at the cheapest cost ever. The offer is valid till 30th June 2021.
For one year of the .com domain subscription, you are charged Rs.850.
On two year domain registration plan you pay Rs.1199. You're ultimately saving Rs.600 by subscribing to the .com domain (1st Year Rs.99*& 2nd Year Rs.1100).
On three year domain registration plan, you pay Rs.1999 (1st Year Rs.99*, 2nd & 3rd Year Rs.950).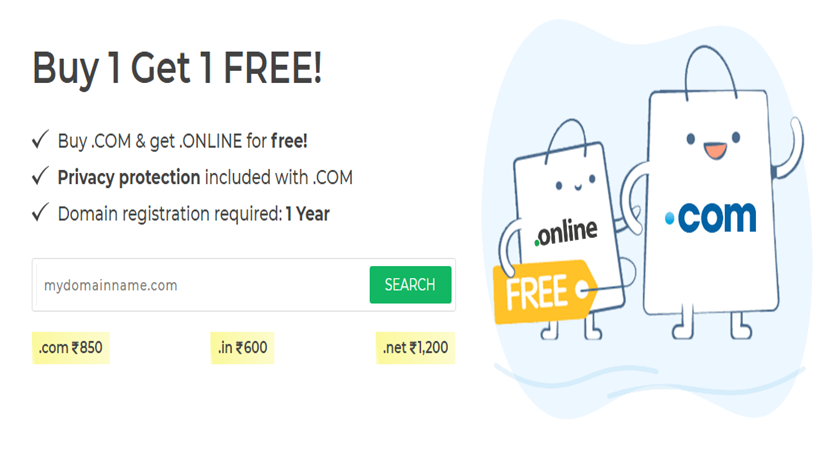 Summing it up:
Purchasing the .com domain just at Rs. 99*/year is the best offer to date in the hosting market. As it is a limited period offer, do not spend your time thinking about buying it or not, grab the offer and take advantage of it.